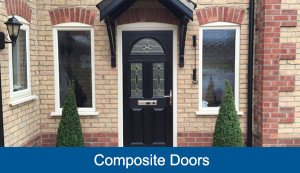 All Easyglaze Composite doors are available in any colour you wish plus an extensive range of glass and side screen options to give your home a stunning appearance.
Our composite doors offer the appearance of traditional front doors combined with the thermal performance and security levels of modern technology.
Offering up to six times the insulation of a timber door, our composite door combines the look of timber with superb thermal performance making it the ultimate modern solution.
Manufactured from a variety of materials, including uPVC, wood, insulating foam and glass reinforced plastic (GRP). The insulation foam core provides a higher thermal resistance than timber doors.
It's the best solution for a low maintenance, very secure door. They have a high resistance to weathering and don't react to seasonal changes.  They won't fade or discolour – and neither will they need painting, nor warp in damp conditions.